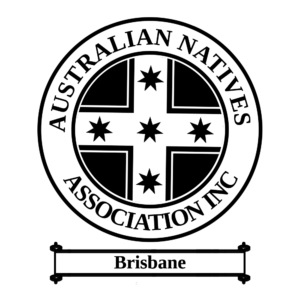 The original branch of the Australian Natives Association in Brisbane was formed in 1885; The spiritual continuation of which was announced in 2018 with the formation of a new branch of the association.
The Natives Association was an enormous force in the cultural and political landscape of Queensland during the 19th and 20th century; under the initial leadership of Fred Johnson and P. F. Ryan the Brisbane ANA embraced the slogan "Local, yet National" as they were gripped in a struggle for the survival of European-descent Australians in Queensland which were gradually being drown out by cheap Polynesian labour. The A.N.A was a staunch political adversary of the wealthy and their use of cheap foreign labour on cane-fields, shearing sheds and farms.  During the great Queensland floods of 1893 the A.N.A was instrumental in launching charitable efforts across the state to relieve Australians of their duress and hardship.
The A.N.A in Brisbane pursuing the cultivation of Australian art and music operated an annual Eisteddfod all throughout the 1930s launching the musical careers of many local natives. These events were always preceded by an address by Mr J. Howlett Ross of the Victorian Natives Association.
Rejuvenated in 2018 by some native-born Queenslanders who felt a sense of duty to re-discovering and cultivating an Australian community the A.N.A Brisbane branch is a growing community of firm young men keen for the Australian cause and building eachother up as men, cultivating good character and strategies for life.
Brisbane@ausnatives.org